I design experiences and services for new media* technologies.
*Computational, interactive digital media such as VR, AR or games
I work with human-centered design methods, in technology-oriented fields.

I believe that through design I have the chance to increase quality of life of others, by making everyday tasks easy, enjoyable and fun.

Creating meaningfulness through experiences is my main goal in everything I do.
Contact me:
Keywords
experience design ︎ service design ︎ UX ︎ usability & accessibility ︎ interaction design ︎ concept design ︎ XR
Skills

Design

Service design tools and methods
Workshop design and facilitation, user journeys, etc.
︎︎︎︎︎
Usability, accessibility
︎︎︎︎︎
Interaction design, gamification
︎︎︎︎︎
Research Users, tools and products, processes
︎︎︎︎︎
Physical prototyping
︎︎︎︎︎
Tools
UX prototypingAdobe Xd, UXPin, Sketch, Marvel

︎︎︎︎︎
Adobe softwarePhotoshop, Illustrator, After Effects, InDesign, Premiere

︎︎︎︎︎
3D
Blender
+ Maya, Creo, Rhino (And did you know you can also do 3D in Photoshop? I do!)

︎︎︎︎︎
AR SparkAR, JigSpace
︎︎︎︎︎
360° 3DVista, Thinglink
︎︎︎︎︎
Work experience
Product Manager
/ Experience Designer
Stereoscape Oy
2020–
Case study highlights
Sisters Inc.
Virtual workshop
Forum Virium
Interactive guide to air quality
Helsinki Skills Center
Soft skills training in VR
Fullsteam
AR effects for Sideways Festival
Stereoscape designs and builds XR solutions for marketing, learning and training.
︎ Experience Designer
I plan and facilitate our collaborative design workshops to pinpoint our clients' goals and challenges, and build a concept to solve them by affecting the users through the right experience – encompassing everything from technologies, user interface, accessibility, interactions, integrations, and distribution.
︎Product Manager
I develop our service and solution offering from a customer-centered point of view, including everything from internal processes (why and how do we build our solutions) to external communication (how do we present them).
︎
UX/UI Designer
I design human-centered, intuitive and accessible user interfaces.
︎ XR Producer
As a creative jack-of-all-trades with experience in 3D modeling and programming, I also build some of our AR, 360° and other interactive solutions.
---
Loiston is a fusion company in the field of software technology.

As the first designer in house, I handled all diverse design-related tasks. I built the company visual identity from the ground up, delivering clean and user-friendly designs.

I created a new look for the company, including visual guidelines, colors, logo, social media look, business cards and website UX/UI, as well as UX/UI improvements for Loiston's software products.

Designer
Steps Helsinki
2017–2018
Steps Helsinki is a Helsinki-based startup specializing in service design and digital marketing strategy.

My role was service design and digital customer experience. I did graphic and UI design as well, focusing especially on delivering minimalistic, clear and responsive experiences.

Education
During my studies I've worked in design projects with various companies, and gathered experience most notably in service design and human-centered approaches. I also took multiple courses from other Aalto schools studying business, chemistry, electrical engineering, etc.
New Media Design and Production (MA)

Currently I'm working on my Master's degree in
New Media Design and Production,
in Aalto University. My studies include electronics, programming, UX design, location technologies, games, animation and sound design.
I
minored
in
Collaborative and Industrial Design
, and spent an exchange semester studying
Culture Technology
in KAIST in South Korea.
Design (BA)
In 2016 I graduated bachelor from the Department of design in Aalto University (see my thesis production
here
).
I minored in illustration.
When Light Echoes
An interactive new media installation exhibited in Finland Tower, Seoul, Korea.
Created using Processing, 3D modeling and Kinect with a group of other Aalto Media Lab students.
http://whenlightechoes.aalto.fi/
Process video by
Reishabh Kailey
---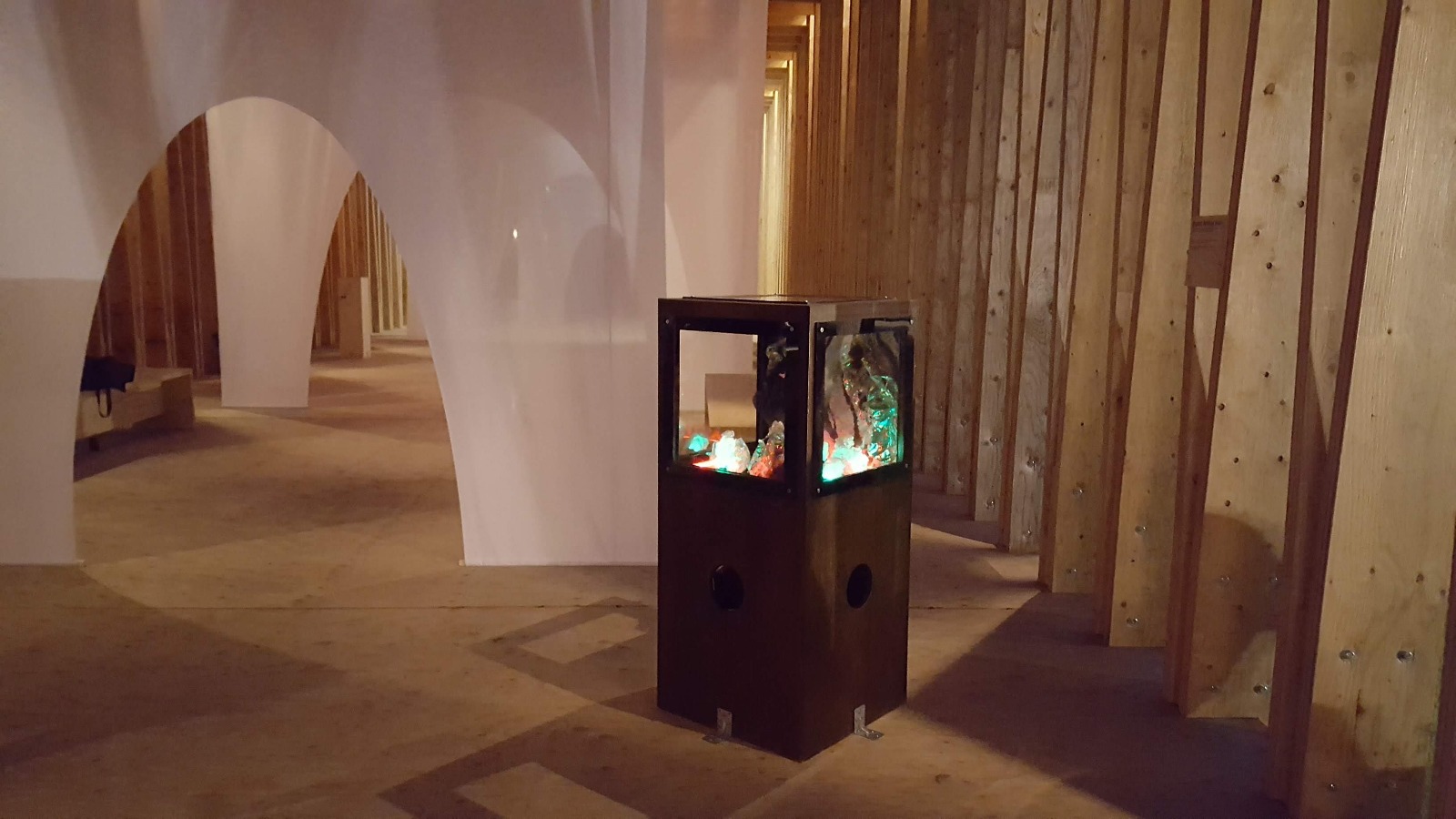 Robot Petting Sea
An interactive art installation made for
Flow Festival 2018
. On the top floor it houses angry little robot creatures. Through the holes on the bottom, the user can reach in and touch around various surfaces. If the user finds soft, furry areas and pets them, the creatures will calm down.
Created by combining Arduino, 3D printing and traditional methods together with fellow Media Lab student Shreyasi Kar.
After the festival, the installation was a part of Underneath – an immersive labyrinth by
Recover Laboratory.
---
Service & human-centered design

Various projects for different companies
during 2014–2018
---
GameStop Oy Ab
Sales associate
2011–2017
Sold (and rambled about) everything related to games. Killed it in customer service.
Haaga-Helia University of Applied Sciences
2012–2013
Studied programming (C#, html) and techonology in International Business IT before finding my true calling in design.